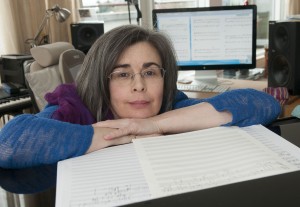 As members of TIC – The Improvisers' Choir are getting ready for their final rehearsal before their first public performance on Saturday 5th December, founder and Artistic Director Jenni Roditi looks back at the past few weeks to reflect on the artistic journey that she and the choir members have gone through, the process she's developed along the way and her relation to improvisation.
From the first gathering 6 weeks ago to yesterday' final rehearsal before the concert, what has been your artistic journey?
At the first gathering six weeks ago I remember we were all strangers to each other. I felt I had to convince the singers of my intentions and my abilities. I had to give a clear idea that I knew where we were going and at the same time be open to the evolution of the group. We did some warm ups and free stuff and then I introduced some signals. During this first session I noticed how I welcomed comments from the group. I realised the collective intelligence of us all was a big part of the process. Suggestions and responses added  a lot and I saw that there was a genuine interest and enthusiasm in what I was projecting of the idea behind the project. As this was 'a first' for me it was a leap of faith. As I said to the group when we sat around that first afternoon: " You put out ads on Singers Pro and UK Music Jobs and other portals and send the message out into an anonymous universe. And what comes back is wonderful human beings. From something like a market place jingle with only a few words about an idea, real artists turn up. It's kind of bizarre and reassuring at the same time!"
After the first rehearsal some of the choir managed to attend one of my regular Vocal Tai Chi workshops. Those that came interacted with members of the public during the session in a way that showed how the spectrum of inquiry into the voice spans in a seamless way from the total beginner to the seasoned pro. And both were clearly learning about music and performance from each other. Any point on the spectrum of learning can be illuminating; the beginners were for sure inspiring the professionals as much as the other way round. The TIC singers got an opportunity to relax more in the Vocal Tai Chi session and we had a very productive afternoon.
As we went through the rehearsal process we went through different phases. The first and second rehearsals were ice breakers and in fact at the second rehearsal 3 additional singers joined us so there was more 'strangers meeting' to move through. By the time of the third rehearsal I knew we had had our introductory process and we needed to move into a new gear. The group was feeling relaxed and the exercises I had set in the first two sessions allowed each voices to be exposed in solos in small doses. I also made sure to sing myself not only direct. We had created an open and level playing field.
Before session 3 I knew I wanted to get a deeper level of listening happening and realised that somewhere there had been some unspoken assumptions about improvisation. Maybe people were sticking to the style they knew or erring into abstract sound making. Neither of these two assumptions were quite getting us to the level I was hoping we could reach. So I felt it was time to build a new road towards collective harmony as the next step.
We found some ways of building chords together that released something new within the group. It amazed me how acutely the listening improved as we allowed the word harmony to be a part of the process. The collective chord building I have to say almost shocked us all. We were entering another level of listening and were often moved and stunned by the subtle worlds that were emerging.
In the fourth session we expanded the language of the signals using the harmonic landscapes that were discovered in the previous rehearsal. I also asked people to look behind their genre identities and respond openly to the other voices in the group – all of whom were varied in their timbal ranges and genre backgrounds. Very deliberately I drew together a varied group of voices so that we could be out of our usual reference points.  I could sense each person getting to know their colleagues as unique creative voices with each new task I set.
In the fifth rehearsal we took a deeper look at how to accompany solos and what the soloist (or possibly double soloists) needed to draw out their voices and how we responded as a chorus to their vocal narratives.
What is your process to develop ideas and build on the choir's progress between each weekly rehearsal?
My process has drawn on many strands from previous experiences which are quite wide ranging. After having learnt a lot of techniques for workshops and for vocal creativity and healing over the years I've got to a stage where I don't plan workshops any more. Gone are the time lines and broad spectrum demagogies. I use intuition. There is a special moment at the end of each rehearsal where I flash back over the whole session and see what has happened and then I just know what needs to happen next. I might just get one or two key words, but that will be enough to know what the next step will be that I will be taking to move the process on the following week. This has worked and allowed me to progress the choir through a widening and deepening process. Interestingly there came a point at the end of the last rehearsal (our fifth) where people were beginning to show signs of nerves as they knew the public exposure was around the corner. This will be tested now in our final rehearsal, this coming Sunday where we have invited a test audience. Can we hold the listening space, the generosity for each other and the creativity of the moment and be totally in performance gear?
What does improvisation mean to you as a composer and performer? 
Improvisation of course means a lot to me as a composer and performer. I am still asking the question: how do you reach the balance between structure and freedom? It is a question that could take up the whole one's life. And it is doing. I go through phases where compositions I work on are highly detailed and technically difficult. I then turned a corner and work on solo pieces for myself to perform which are drawn from improvisation but end up quite fixed. And then there are other times where I am working much more freely in the moment either as a soloist or with a small ensemble of improvisers, notably with one or two instrumentalists. And then of course there is the phase of my teaching work where I am improvising on behalf of other people's process so I have a kind of 'teacher improviser' mode which I consider to be just as creative as actually notating a score. It's the overall shifting and sticking;  the overall pushing and pulling, the overall opening and closing: these fundamental movements of energy, not only in music, but in our experience as human beings. When you feel these big waves of time and indeed space and how they have natural life spans, each unique and never to be repeated in quite the same way again – (even if it's a fully notated score) – engendering with aliveness the sound world that is needing your attention there and then – that is when the membrane of structure and freedom starts to pull on your internal senses and you know you are walking in the stream of forces that underpins the creative process. I think that may be at the basis of all the work that I do…