"A really captivating evening of polyphonic music with much heart and soul from all the singers. MORE PLEASE!"
Audience testimonial. Earl Haig Hall 2016.
TOC is a community improvisation choir directed by Jenni Roditi. Founded in February 2016 the choir have performed locally at Earl Haig Hall 2, Crouch End Festival -Hornsey Town Hall (in 2016 and 2017), Oxjam HTH, Meadow Orchard Project, Inderwick Road Street Party and now for the first time in the intimate enclave of Jenni's home, the loft, in Crouch End. This is where the choir have rehearsed and nurtured the challenging creative practice of improvisation this term. Many of the TOC choir members have also worked with Jenni previously at the loft in her Vocal Tai Chi sessions which were in many ways a workshop preparation for the outward facing process of performing in TOC. Vocal Tai Chi opened the door to an expansive exploration of the full spectrum human voice - with its emotional rawness and it's inspired freedoms....TOC moves the work on from the solo practice at the heart of Vocal Tai Chi to ensemble performance with an audience, in which solo's play a vital part. This new element of working together as an ensemble is strengthening the community and allowing members to see how they can integrate their ideas with others' to form a rich polyphonic canopy of sound.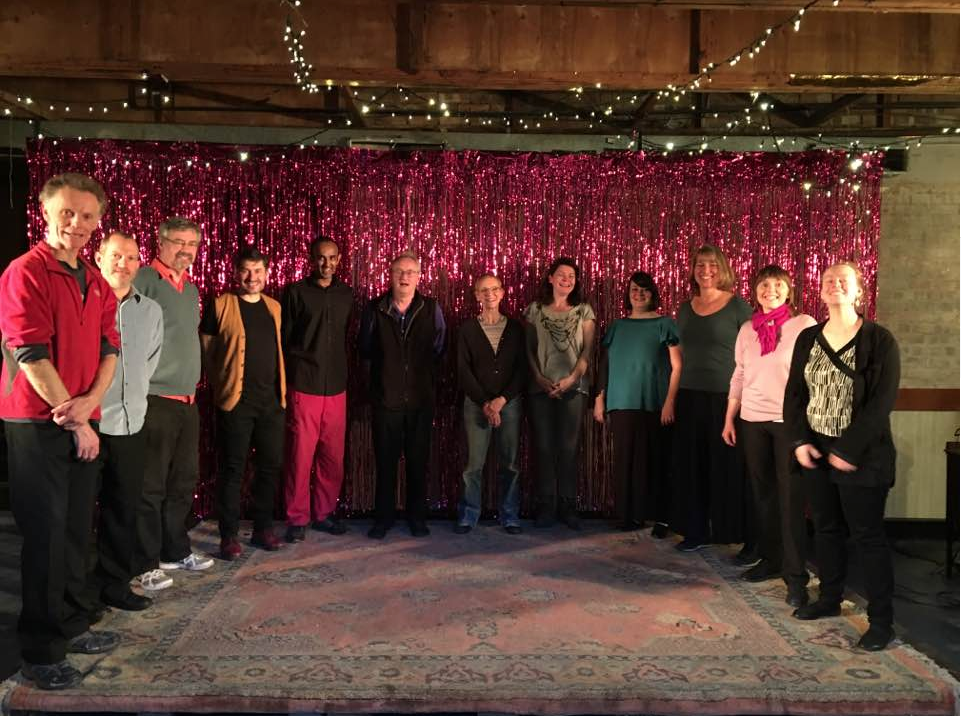 Jenni brings her composing experience to bear by forming the music the choir improvise, through a method of signals that direct the singers in their roles - but not in their actual musical content - which they create themselves. Everyone gets to play all roles (from rhythmic, harmonising, copying, echoing, rubber banding, internal monologues, interacting riffs - use of free association and simple observational words - to melismatic solos and duets.. and more, over the course of the concert. We have a healthy variety of ways into the music - and also for the first time this season (season five) some compositions that Jenni has offered to the choir; Christ Mask and Sing for the Trees.
The evening will include BYOB drinks and snacks and fresh air vistas of Ally Pally and Crouch End from the balcony.
TOC has a sister choir.. TIC - The Improvisers' Choir who are our professional emmanation. TIC will be starting a residency at Ryan's Bar in Stoke Newington in 2018.
For booking please visit this LINK.