I was excited to hear about TIC performing in this unique battle of the bands competition, having been to numerous Nonclassical events over the years. They are a record label and promotor of new and experimental music spearheaded by Gabriel Prokofiev, an ideal platform for The Improvisers' Choir. I haven't the space to write about the other amazing acts that evening, so for now I will just give you my thoughts and feelings on our improvisers entry to the contest.
Upon entering the venue I bumped into some familiar faces, Jenni of course, plus a few of the choir. I looked around for other members but they weren't in sight. There were, however, some new faces sitting with Jenni whom I assumed were friends and fans. To my surprise, when they got up on stage as the opening act - I was to see an almost brand new choir. TIC had been renewed and reborn! I was a little taken aback, and immediately curious to see what was in store from this new choral cast.
What initially struck me was that the choir had a new edge. The previous lineup had become wonderfully accustomed to the ensemble's approach and to many of their processes of immediate musical creation and live structuring. They were becoming increasingly adept at their craft and the music progressively more polished. This was a delightful and rewarding journey to follow and be a part of, and it resulted in a quality of music that was unique and inspiring.
I remember the early rehearsals and gigs with fondness however. There was an excitement in the air of each gathering, born of the uncertain nature of the endeavour and of the richly diverse mix of personalities and musical experience. This exciting edge was back in the air and on the stage with this new cast of characters.
The silence before the first note emerged buzzed with anticipation and the characteristic uncertainty of this group's form of creativity. Jenni began with a comforting drone from which to encourage and nurture further material. She then proceeded, in only a single piece of about ten minutes, to provide an exposition of many of her techniques, processes and, of course, the members' multifarious vocal qualities.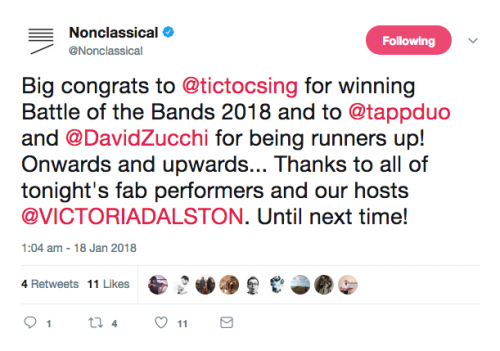 Each unique style, experience and history came through thick and strong; distinct, bright and shining, their sound forged in the metal of striking musical figures. The new edge heightened a volatile and unexpected atmosphere as each singer boldly offered new ideas and material as Jenni signalled them to do so. The range of sonic characters and qualities offered new potentials, new multiphonic possibilities. There were amazing overtones and throat singing from a surprise performer that night. Candida Valentino, a well known figure in the field of Mongolian overtone singing and sound healing, was asked at short notice to sing alongside them. I was delighted to meet her afterwards, having been an admirer of her work for some time. Her voice added a powerfully mystical element to the collective and she seemed to fit in effortlessly. Jenni took her sound, and that of the other members, and turned them on a wheel, a gyre that pulsed, swelled and diminished, comprised of shifting components and cogs that interfaced and interlaced. There were some wonderfully pure, high male voices, and contrastingly rich, lush and low female ones. Some spontaneous animalistic cries from one of the new member's were captivating just at the peak of the piece's trajectory. Through evolutions and natural selections into sections and movements, the piece wound its way up far and then back into the performance space. The response from the audience was appropriate, applause and cheers for an enthralling opener to the competition.
And the result of the competition was appropriate too, they won! This was no easy win either, being up against some formidable and original acts. All felt this was a well deserved award for Jenni and her courageous choir, one that will see them perform again with Nonclassical and a great start to 2018.